Honor. Document. Preserve.
The Berlin High School Athletic Hall of Fame, was established in the fall of 2008, as a vision of then BHS Athletic Director Jim Day. The inaugural class of the Hall of Fame was inducted in May 2010 at the Crowne Plaza hotel in Cromwell, CT. The inaugural class included sixteen honorees. Including this year's class, a total of 115 athletes, coaches, contributors and teams, have been enshrined in the Hall of Fame.
Since the establishment of Berlin High School in 1935, many great athletes and coaches have called BHS home. The Hall of Fame will continue to search for deserving persons who have made significant contributions to the athletic programs at Berlin High School.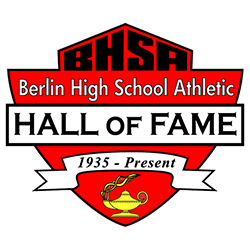 To permanently honor, document, and preserve distinctive contributions to the sports heritage of Berlin High School.
Richard Pentore
President

George Kanupka III
Vice President

Dave Francalangia
Athletic Director
Barton Bovee
Board Member

Anthony Legnani
Board Member

Gerald Segal
Board Member

Robert Zipadelli
Board Member
Woody Anderson
Board Member

Robert Rosso
Board Member

Robert Facey
Board Member
Selection Process
All nominees must have the qualities of integrity, sportsmanship and of good character. Nominee categories and minimum qualifications are described here.
How does it work?
The Induction Nominating Committee, selected from members of the Board of Directors, then researches and documents the qualifications of each nominated candidate, and will recommend a list of candidates for induction on a yearly basis. The final list of candidates to be inducted will then be forwarded to the Board of Directors for approval.
The yearly list of inductees is limited to ten (10) individuals. This shall include no more than one individual included in the Special Category, selected no more than every two (2) years, and one individual included in the Coach or Administrative Category, selected each year. In addition, the list of approved inductees may include one candidate from the Team Category.