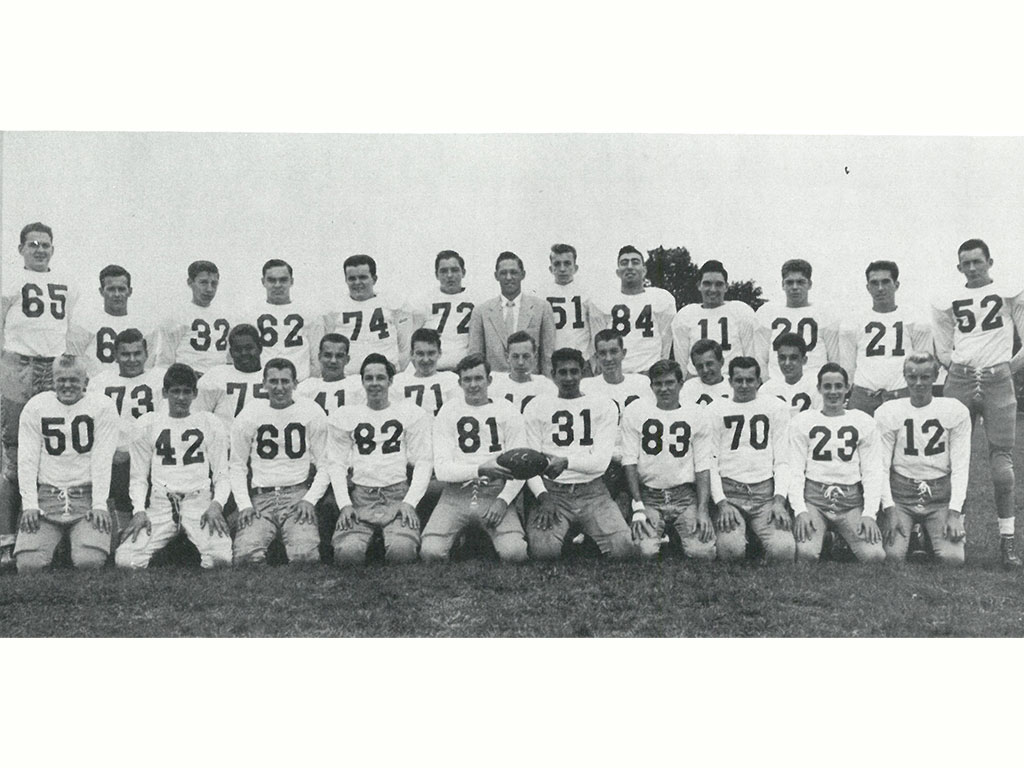 1955 BHS Football Team
Team
The 1955 football team competed in the North Central Football League, playing teams from Plainville, Cheshire, Canton, Gilbert and Farmington, along with Griswold and Simsbury that year. They completed their season undefeated with only a tie against Farmington. They were the only undefeated Class C team in the state. Berlin's great record qualified it to be singled out for top honors by the CIAC Class S Committee. During the season, the team outscored opponents 158-56.
They combined the hard, never-say-die running of seniors Fran Rio, Bob McCann, Richard Dimugno and Bob Johnson and the fine punting of Eddie Maguda along with the jarring defensive line play of seniors Dick Cooney, Bob Albert, Dick Potash and Stan Bakaj to have the outstanding season they did. The co-captains were Albert and McCann. Other team members included Thomas Luby, Malcolm Pabst, William Keating, Leonard Matyka, Richard Potash, Daniel Shene, James Newman, Alfred Talbot, James Cheatham, Sheffield Clarke, Stanley Karvarsky, Peter King, Leonard Cannon, Roger Berg, Joseph Dutkiewicz, Thomas Tyburski, Richard Pedemont, David Dary, Charles Hislop and Emil Albert.
The team was coached by Cliff Landry and assisted by Dave Clark. This was coach Landry's first season at the Berlin helm. He was a former East Hartford High and Springfield College back who took over the coaching job for Bill Gibney, who relinquished it to spend more time teaching and with his other coaching and athletic director responsibilities.
The team was honored for its achievements at a public banquet held at the high school with Ben Agajanian, the kicker with the 1955 New York Giants football team, as a guest speaker.