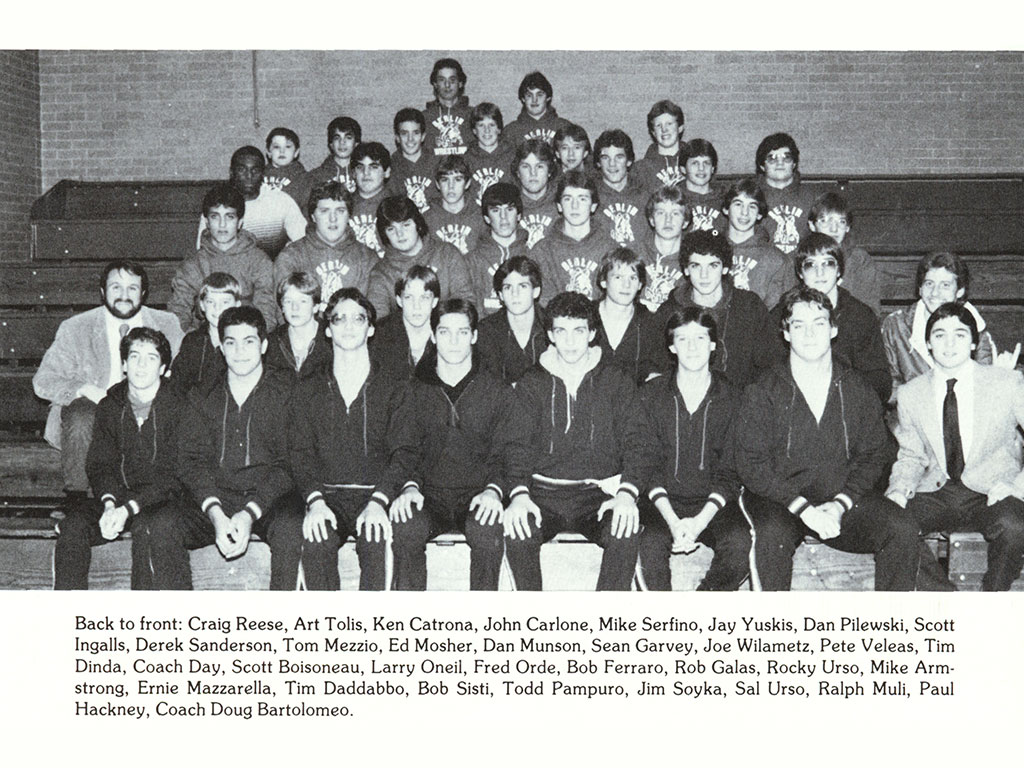 1986 BHS Wrestling Team
Team
The 1986 wrestling team finished the season with a 15-3 dual meet record. They won the St. Paul Tournament, captured the NWC title, and went on to win the Class S State Championship. In doing so they scored 234 points out distancing their closest competitor by 25 points. This point total of 234 was a state record for total points in a state tournament.
The team was led by senior quad captains Todd Pampuro 112 lbs, Sal Urso 140 lbs, Jim Soyka 147 lbs, and Bob Sisti 169lbs. as well as seniors Tim D'Addabbo 107 lbs, Ralph Muli 128 lbs, and Paul Hackney at heavyweight.
The team produced 7 NWC Champions: Scott Boissoneau, Rob Galas, Jim Soyka, Rocky Urso, Bob Ferraro, Paul Hackney, and Todd Pampuro who was selected the conference outstanding wrestler, also, two state champions, junior Rocky Urso at 157 lbs. who completed his second undefeated dual meet season and senior Paul Hackney who pinned all his opponents except for his final match where he dominated his opponent.
The following were also members of this outstanding wrestling team that set the bar of achieving state championships as the goal for the teams that followed at Berlin High:
Chris Reese, Art Tolis, Ken Catrona, John Carlone, Mike Serafino, Jay Yuskis, Dan Pilewski, Scott Ingalls, Derek Sanderson, Tom Mezzio, Ed Mosher, Dan Munson, Sean Garvey, Jow Wilametz, Pete Veleas, Larry O'Neil, Fred Orde, Mike Armstrong, Ernie Mazzarella, and Bob Sisti. They were led by coaches Jim Day and Doug Bartolomeo.