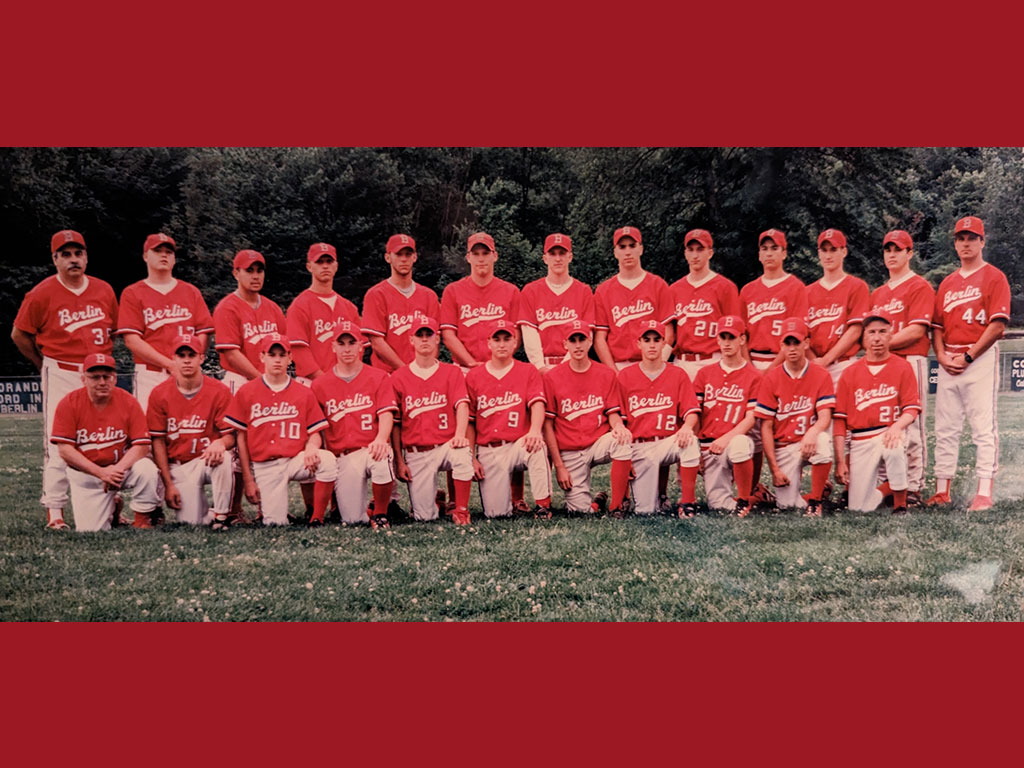 1999 BHS Baseball Team
Team
Early in the 1999 baseball season the team was demolishing the opposition.
The Redcoats needed a motto. And soon "You hang 'em, we bang 'em," T-shirts were seen in and around the school.
Their high-powered offense consumed nearly everything in sight throughout the season, easily winning the Class L state championship, 5-1 over Seymour, to finish 21-3.
Feast on these numbers: won 10 games by 10 runs or more, outscored opponents 221-45 including 43-11 in the four state tournament games and had a .353 team batting average.
Opposing pitchers could face these four batters at the top of the order: center fielder Dan Silva, who made the T-shirts, batted .413; third baseman Tom Duong (.364); shortstop Bill Robinson (team-high .568) and catcher Josh Greco (.356).
Left-hander Jesse Carlson (10-1) said one of his best pitches was inside to righthanded hitters: "It was very beneficial. My 3/4 low-arm slot was very deceptive." He hit 13 batters saying, "I'd rather hit a guy than have him get a hit off me."
"He had lots of guts," coach Leo Veleas said. "A tough, tough kid. He had the best lefty breaking ball I've ever had. He could throw it on any count."
In the state tournament, Carlson pitched three games including the semifinal against Fitch-Groton. The Redcoats won 13-0. The game was called after five innings because of the mercy rule. Carlson struck out six.
Three days later against Seymour, Carlson pitched a complete game striking out five, allowing three hits and – hitting four batters. For the season he struck out 86 in 73 innings.
Pitcher Matt Young was also dominant with a 7-0 record, 1.43 ERA and 57 strikeouts in 40 innings.
"The season didn't surprise me," Carlson said. "We had a good group of seniors."
He finished the season with a 0.96 ERA. His lone loss was against Northwest Conference rival Plainville. It was his only loss in high school, American Legion or fall ball. He played at UConn and later professionally for 11 years, including four with the Toronto Blue Jays.
Robinson also was stellar in the 1999 BHS championship season, leading the team in hits (41), runs (33) and RBI (35). At Wesleyan he set seven school records, and in 2015 was inducted into the Wesleyan Baseball Hall of Fame.